Natural Pharmacy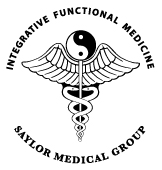 If you see our logo next to a product you know it was developed by Saylor Labs and was formulated by Dr. Saylor.
We take an enormous pride in the products we offer. They have to be the best and produce positive results. If we can't find a product that is good enough, we have one manufactured. On our product page we only offer what we use in the clinic, give to our families and take ourselves. If its not good enough for us its not good enough for you.
These products are the highest quality available and available only here and through physicians. These are not your typical health food store/vitamin shop products.

After all it is your health and longevity. Don't you deserve the best?

None of the products on this site have been evaluated by the Food and Drug Administration. None of these products are intended to diagnose, treat, cure, or prevent any disease.
This information for products is not intended to cover all possible uses, directions, precautions, interactions, or adverse effects. This information is general and not intended as medical advise. If you have questions about this formula you are taking or would like more information, check with your physician.
The use of Saylor Wellness, Inc. products is at your sole risk. These products are provided 'AS IS" and as available for use without warranties of any kind, either expressed or implied. Saylor Wellness, Inc. makes no representation or warranty as to the accuracy, reliability, timeliness, usefulness, or completeness, of any information contain in or about the products. Saylor Medical Group does not assume liability, responsibility, or risk for your use of the Saylor Wellness, Inc. products.
Do not use information on this site in place of medical advise. You should discuss all products you take and any treatments with your healthcare provider.