WEIGHT LOSS
Eat Well - Lose Weight - Live Well
You have heard all the hype and scams and maybe even tried a few and here your are needing to lose weight again.
If you want a plan that actually works for now and for the rest of your life you should call us.
There is no magic pill, shot or diet. If there was no one would be overweight. However what you see is people taking amphetamines, starving themselves, or having surgery and then putting the weight back on. Lasting control of your weight requires a plan based on you and how your body actually works. We have that plan. Proved to work since 1994.
If you decide to try one or another one of those great sounding solutions and find it fails you, we understand. We tried them once too. But, when you realize they don't work and you want a real answer give us a call - 727-938-9966 and we will give you a no hype, no magic plan proved to work since 1994 that will provide you with lasting weight loss and increased health and wellness.
Home of the "Gr8Life Never Diet Again", Program

Your Real Solution To Weight Management

Plans to Aid Weight Loss

Nutrition Support - B vitamins - Lipotropics (fat burning) - agents for sugar control and cravings - others added as needed. Usually as a weekly injection but is also available as an oral.

A hormone that allows for a very low calorie diet without hunger or fatigue from calorie reduction. Weight loss claims of 1/2 to 1 pound a day. Injection or sublingual. Effective when done correctly.

A plan for women that have weight that doesn't come off even when you do the right thing. This is usually caused by a hormone imbalance.
I have tried Weight Watchers, Atkins, Lean Line, diet pills and many others over the years. I have to say, The Saylor Medical Group New You Plan has been the most effective program for me. It has definitely been the easiest program I have ever tried, and I would recommend it to anyone who has tried to lose weight unsuccessfully in the past, or if this is the first time you're trying to lose weight, you're in the right place. Rebecca (Lost 24 lbs)
IN JUST A SHORT 30 DAYS
You'll be on your way to the Leaner, Healthier Body you've dreamed of... and you're not going to do it by starving yourself. Unlike a traditional "diet" where you deprive yourself of the food you love, the Gr8Life Never Diet Again Plan is a more practical ap­proach to weight loss where you USE FOOD TO LOSE FAT! It is a simple plan that teaches you how to eat all the foods you love - all the same foods you are eating now - in a way that speeds up your metabolism so your body burns fat instead of storing it.There's no starving. No counting calories. No prepackaged "diet" food. And you won't deprive yourself of ANY of the foods you love.
Instead, you'll learn how to make little changes to the WAY you eat your favorite foods that will give you huge results. And in just 30 days, you WILL lose pounds, you WILL shed inches, but more importantly, you will learn how to eat to be lean and healthy for the rest of your life.
If you are tired of dieting and starving yourself to
lose weight, then this is the plan for you.

On the Gr8Life Plan
you don't eat LESS, you eat MORE.

You use food to burn fat and that means eating often!

On
this program, you'll not only eat three full meals
each day,
you'll also snack IN-BETWEEN each and
every meal - and into the evening -

to keep your
body's fat burning engine running on high all day
long!

And best of all, following the simple por
tion guidelines
you

can use virtually any food you love - from cheese

and crackers to wine and chocolate - to stoke your

body's fat burning furnace in between meals.
On
the Gr8Life Never Diet Again Plan, you'll never go
more than 3 hours without eating the foods you love!
You'll Never Eat a Food You Don't Like
On this program, there are no prepackaged foods. No amphetimines with dangerous side-effects. And you won't be eating things like cottage cheese and rice cakes(...unless you love them!). Infact, if you ever eat anything that seems remotely like "diet" food, you're not following the plan. On Gr8Life, you learn how to eat all the foods you LOVE – all the same foods you are eating now - in a way that causes you to lose weight rather than gain it. You'll simply eat them in the right combinations and amounts to optimize your blood sugar levels and switch your body from "Fat Storing Mode" to "Fat Burning Mode." And, the simple scientific proportions of the Gr8Life Plate make sure you are always eating just the right amount of food to keep your body in "Fat Burning Machine"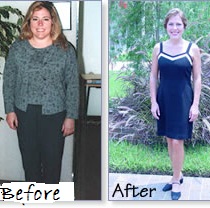 WE PROVIDE
Oral (non-amphetamine) Appetite Suppressants
Oral Energy Boosters
Injections (Lipo-B (fat burner), B12, Vitamins, Metabolism Boosters)
Hormone Balancing
Sensible Diets
Methods to Stop Emotional Eating
Methods to Stop Cravings
Medical Food Meal Replacement Shakes
Snack Bars
Vitamin/Minerals
Exercise Plans (some can be done in under 10 minutes)
Ongoing Support
COMPARE OUR PLAN TO THEIRS

Initial Visit With The Physician

Usually 5 to 10 minutes with the physician or none - exam sometimes done by medical assistant

EXTRA STRENGTH FAT BURNING INJECTION

NO - Usually a Regular Strength or Just a B12 or None

Yes

A MEDICAL MEAL REPLACEMENT - 1 per day

NO

Usually NO or its extra

Recipes - pages and pages with new ones constantly added

None or a Few or Told to Buy a Book

TREATMENT for HORMONE IMBALANCES

Sometimes - usually less experienced

EXERCISE PROGRAM - some can be done in as little as 10 minutes a day

NO

TREATMENT FOR FOOD CRAVINGS

NO

TREATMENT FOR EMOTIONAL EATING

NO

TRANSITION PLAN FROM "DIET" TO EVERYDAY EATING (this is the secret to longterm success)

Usually NO

YEARS OF EXPERIENCE- Since 1994

Usually much less

PLAN DEVELOPED BY THE PHYSICIAN

Usually Not - Often the Plan is Purchased From Someone Else