DIGESTIVE / LEAKY GUT
Early Signs of Serious Issues
"I noticed an immediate difference in myself. First, I have much more energy. I also have much clearer thinking, my joints aren't achy, and the chronic bowel issues I'd been having for years disappeared!" — Brenda,
What are signs of a healthy digestive tract?
No upper indigestion or acid reflux (heartburn). Little or no regular gas, bloating or flatulence. Regular soft and formed bowel movements once or twice a day. No partially digested food or oils in the stool. No intestinal cramping or pain with foods or with defecation. No joint pain or stiffness. No skin problems. A healthy physical exam and appearance in general that reflects good nutrition.
Abdominal Distention

Abdominal Pain

ADD ADHD

Adrenals

Aggressive Behavior

Airborne Allergies

Anxiety

Arthritis

Asthma

Autism

Bacterial Infection

Bloating

Bronchitis

Burping

Candida

Celiac Disease

Chronic Fatigue

Colitis

Confusion

Constipation

Crohn's Disease

Dairy Intolerance

Depression

Dermatitis

Diabetes Type 1

Diabetes Type 2

Diarrhea

Eczema

Fatigue & Malaise

Fevers

Fibromyalgia

Fuzzy Thinking

Gas

General Food Intolerance

Gluten Intolerance

Hashimoto's Thyroiditis

Hay Fever

Headaches

Heartburn/GERD

Inability to Heal

Infertility

Insomnia

Irritable Bowel Syndrome

Joint Pain

Mood Swings

Mouth Sores

Multiple Sclerosis

Muscle Pain

Multiple Sclerosis

Muscle Pain

Nervousness

Obesity

Osteoporosis

Parasites

Poor Memory

Recurrent Colds & Flus

Reoccurring Infections

Shortness of Breath

Sinus & Nasal Congestion

Toxic Feelings

Ulcerative Colitis

Unstable Blood Sugar

Urinary Tract Infections

Weight Gain

Weight Loss Resistance

Yeast/Fungal Overgrowth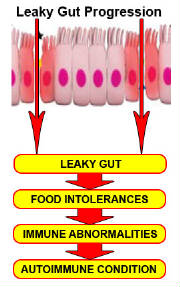 The digestive system is the root of all health.
It's where you get nutrition for every cell in your body, including support for your immune system. If it is irritated, inflamed or constipated, it cannot do its job, and your health will steadily decline as a result.
Over 75% of the women we see in the clinic report frequent bloating, gas, diarrhea, constipation or difficulty with digestion. These are signs of dysbiosis, or poor digestive function, that can lead over time to multiple negative effects:
Poor absorption of nutrients, which affects overall natural body function and health. In many cases your weight may increase at the same time you are starving your body of the nutrition it needs.

Compromised immune function, chronic infection and triggering of autoimmune diseases.

Food Sensitivities or Food Allergies.

Progressive deterioration of the intestinal wall, leading to such problems as leaky gut syndrome, irritable bowel syndrome (IBS), diverticulitis, Crohn's disease, and others, that together affect millions of Americans.

Systemic Imflammation, which contributes to heart disease, arthritis, joint pain and muscle stiffness, skin disorders such as dry skin, adult acne, rosacea and psoriasis, and more.
Literally millions of women are affected by these disorders. Unfortunately, most health care practitioners have little training in digestive issues. Many drug therapies only treat the symptoms.
Why such an epidemic of problems?
The underlying major cause is poor nutrition, which leads in time to imbalances in the intestinal flora of the gut. Most of us don't realize that the friendly bacteria that reside in our digestive tract are effectively an organ of the body. And a big one — each of us has over three pounds of bacteria in our small intestine! The conventional high-carb American diet, heavy on sugars and processed foods, is really a formula for dysbiosis.
Acid Suppressants
Antibiotics & Hormones
Carbs & Sugars
Skipping Meals
Stress
Low Stomach Acid
Reduced B12
Abnormal Gut Flora
Blood Sugar Spikes
IncreasedCortisol
All = Impaired Digestion
What Leaky Gut Looks Like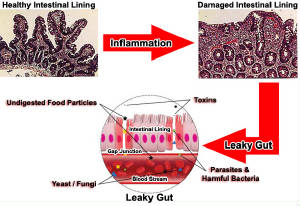 What is leaky gut?
Leaky gut is an increased permeability of the lining of the small intestine. I am going to discuss leaky gut from a much broader, looser definition to include not just permeability but also including some of the other digestive contributing factors of decreased stomach acid, decreased digestive enzymes, dysbiosis (imbalance of good and bad bacteria and increased yeast), parasites, food sensitivities / allergies, and inflammation.
Some of the factors that lead to increased intestinal permeability
Ø Poor diet
ØExcess Carbs and sugars
ØArtificial sweeteners
ØUnsaturated fats
Ø AGES (Advanced Glycation End Products)
Ø Alcohol
Ø Capsaicin (sweet peepers, cayenne peppers, paprika)
Ø Food allergies
Ø Gliadin (Gluten)
Ø Inflammation
Ø L-alanine
Ø Large amounts of tryptophan
Ø Linoleic acid
Ø Marigold, hops
Ø NSAIDs
Ø Overgrowth of bacteria in small intestine
Ø Pathogenic bacteria
Ø Psychological stress (anger, stress)
Ø Stenuous exercise
Ø Surgery / Trauma
Ø Advanced age
Ø Zonulin
Everyone that has an autoimmune disease has "leaky gut".
Gut Quiz
¨I have a bloated or full feeling, and or belching, burning, or flatulence after meals
¨I have chronic yeast or fungal infections
¨I feel nauseated after taking supplements
¨I feel fatigued after eating
¨I have heartburn
¨I regularly use antiacids or take medications
¨I have chronic abdominal pains
¨I have diarrhea
¨I have mucous in my bowel movements
¨I have constipation (going less than once or twice per day)
¨I have greasy, poorly formed or foul smelling stools
¨I find food that is not fully digested in my stool
¨I have food allergies, intolerances or reactions
¨I have intolerance to carbohydrates (eating bread or other sugars causes bloating)
¨I have anal itching
¨I have bleeding gums or gingivitis
¨I have geographic tongue (map like rash on tongue indicating food allergy or yeast overgrowth)
¨I have sores on the tongue or mouth
¨I have canker sores
¨I crave sweets and bread (sugars or carbs)
All of these are signs of impaired gut function.
What can you do for healing your digestive tract?
Correct history taking and examination
Correct testing if needed
Diet changes
The correct medical grade supplements and phytotherapy.
Reduction of the effects of Stress
We've been very successful in our program since 1994 in helping relieve digestive issues. 1-727-938-9966